Ananta Jalil and Barsha have been making headlines for various reasons since the release of their alleged BDT 100 crore movie "Din-The Day".
In conversation with The Daily Star, Barsha talks about her upcoming projects and future plans.
According to Barsha, they produce films to entertain people. "We don't make films after calculating the profit or loss," explains the actress. "After the next 4-5 years, I may not be working on any new projects. We'll do another movie when we feel like it, it'll be entertaining for the audience."
The actress also claimed that despite much discussion surrounding their film, they did not receive enough support from the media.
"Audiences came to cinemas, many people praised it, even our news was also published in international media, it's sad that no one said anything about it," Barsha said.
She also touched on the fact that her and Ananta's position in the fraternity cannot be compared to any other artist, because they produce their own project and even if they want to, they cannot invest in five other films in same time.
The promotional campaign for "Netri-The Leader" starts today. Photos: Taken from Facebook
">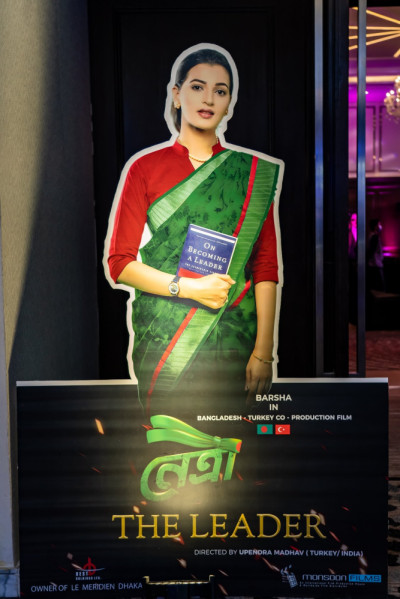 The promotional campaign for "Netri-The Leader" starts today. Photos: Taken from Facebook
The film industry is revived and the scenario changes visibly. Asking her how she felt about it, Barsha said people would judge how this change was made. "These are the people who will say which movie brought audiences back to theaters, I don't have to say," the actress shares. "In order to maintain this flow, we will definitely come up with something better in the future."
Barsha informed that their upcoming movie "Netri- The Leader" has completed 60% of its filming and will be finished by October. Filming for parts of Turkey remains.
"This film will be co-produced by Turkey and Bangladesh. We have already started promotions," adds Barsha.